Description

Pack of 4, GU10 Base, 4W, LED Spot Light Bulbs.
Included in this offer are four energy saving LED downlight/spotlight bulbs,
4 Watts, 240V, CREE Leds (inside), GU10 Base, light bulbs.
Base type: GU10
Operational voltage: 240V.
Emitted colour: White.
Intensity: Bright 4W (4 x 1w), 270Lm-350Lm in total.
Certification: CE, FCC & RoHS
Shell Material: Aluminum Alloy
Bulb Dimansions: 50mm x 60mm

Pack include four LED light bulbs.
Order turnaround time is approximately 10 working days.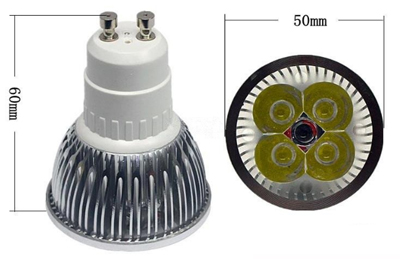 Why Led Bulbs
A 4 Watt LED bulb will roughly produce the equivalent of a standard
50-60W halogen bulb while consuming a fraction of the power, it will
help you considerably cut your lighting bills while reducing your carbon
footprint and help the environment.
Led lights have a life expectancy of more then 40,000 hours (roughly
15-20 years of service under normal operation) and very low energy
usage – they are considerably more efficient than incandescent, CFL
and halogen bulbs.


Features:
* Energy saving LED lights, Low energy consumption, high brightness, long life expectancy.
* LED lights are more energy efficient than Incandescent and most Halogen Lamps
* LED Color: Warm White
* Base type: GU10
* Operational voltage: 240V
* Output power: 4.0W (4 x 1W Chip LEDs in each bulb)
* Beam angle: > 50 Degrees
* Life expectancy: approx 40,000 hours

Applications:
For illumination and decoration at home and public areas . Normally used in Entertainment
Lighting, Architectural Lighting, Boutique atmosphere lighting, Back lighting, concealed lighting.
Widely used in hotels, dining-rooms, meeting rooms, drawing rooms, showrooms and
exhibitions etc.
Package Content: 4 x 4W GU10 light Bulbs (four LED light bulbs)

Click here to search our database for all GU10 base type LED bulbs we currently have in stock