Automatic Lights ON Garden Solar Light Circuit
This circuit will switch on a LED automatically when it detects darkness.

Detecting Darkness
The battery is continuously charged via the solar panel during the day. The solar panel serves as both the battery charger and the "darkness" sensor. The 2n3906 PNP transistor base switches on (become negative) when it is dark and switches on the LED.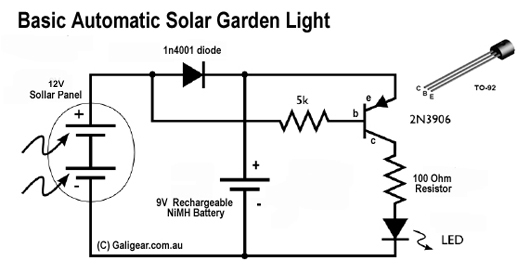 Parts list for this project:
1) 2n3906 PNP transistor [Order 2n3906 PNP transistor online]
2) 5k Ohm Resistor [Order 5k Ohm Resistor online]
3) 100 Ohm Resistor [Order 100 Ohm Resistor online]
4) PCB board [Order PCB Board online now]
5) 9v NiMH rechargeable battery
6) White LED (17,000mcd) [Order superbright White LEDs online now]
7) 12v Solar panel [Order 12v Solar panel online now]